We found Manon Lagrève's bakes on The Great British Bake Off simply irresistible. So we asked her to create a delicious dish for Easter using some of our kitchen products.

"Pâté Berichon is a traditional French Pâté en croute that we make for our Easter celebrations. Traditionally it is made with veal and pork, however I like to make mine with lamb and pork. You can easily recognise this dish thanks to the eggs inside it, a lovely symbol of Spring. This dish is an easy showstopper that I'm certain will be the star of your Easter table."
- Manon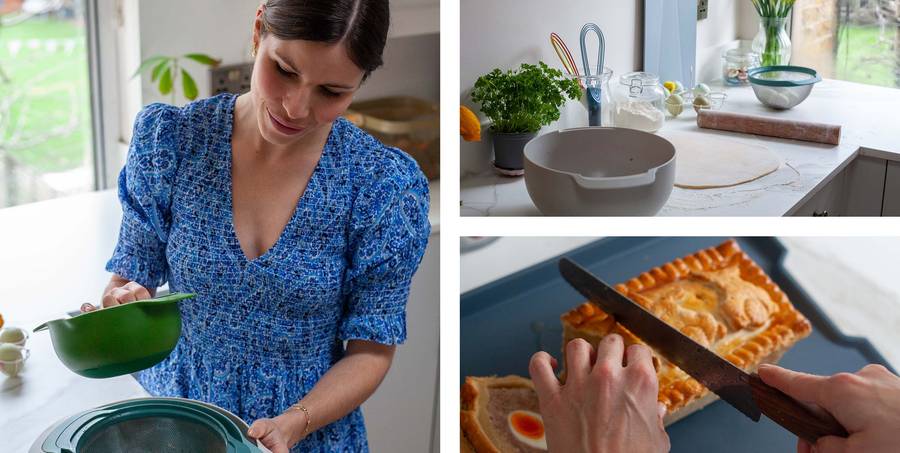 Method⁠:
---
For the pastry, place everything in a food processor, or simply crumble the butter with the flour and add the rest of the ingredients to form a dough. Keep in a container in the fridge for at least an hour. You can do this step the day before.
On a chopping board, thinly dice the shallot and set aside.
In a bowl, add the meats, egg, parsley, breadcrumbs, nutmeg and salt and pepper. Mix together using your hands and set aside.
Slice the pastry in two and roll out into a circle big enough to fill up your terrine tin.
Start to cover the pastry with the meat mixture, making some space for the boiled eggs in the middle. Finish by covering the eggs with the rest of the meat.
Roll up the rest of the pastry, brush the sides of the terrine with some egg, and place the second sheet of pastry on top.
Neatly cut the sides of the terrine and seal by binding the sides with a spoon.
Pre-heat the oven to 180°C fan, keeping the terrine in the fridge for 20 minutes.
Brush the terrine with egg yolks before cooking for 20 minutes at 180°C and another 30 minutes at 180°C, until golden brown.
Leave to cool slightly, before removing from the tin, and serving warm or cold.
Bon appetit!
---
Win a kitchen accessories bundle worth over £250
Here's your chance to win the Joseph Joseph kitchen accessories used by Manon to create her delicious recipe. Tempted? Don't delay, our competition closes on Sunday 9th April.
For the shortcrust pastry
500g plain flour
160g salted butter, cubed
4 tbsp olive oil
2 pinches of salt
150ml cold water
2 egg yolks

For the paté
300g lean pork mince
200g lamb mince
4-5 boiled eggs
1 shallot
100g breadcrumbs
1 egg plus 1 egg yolk to brush over
2 tbsp parsley
1/2 tsp nutmeg
Generous amount of salt and pepper
Ingredients
For the shortcrust pastry
500g plain flour
160g salted butter, cubed
4 tbsp olive oil
2 pinches of salt
150ml cold water
2 egg yolks

For the paté
300g lean pork mince
200g lamb mince
4-5 boiled eggs
1 shallot
100g breadcrumbs
1 egg plus 1 egg yolk to brush over
2 tbsp parsley
1/2 tsp nutmeg
Generous amount of salt and pepper